Typically, in photography you struggle with not enough light . Nevertheless, if using Blackmagic Pocket Cinema Camera you can easily run into a "too much light" problem. As the camera offers the minimum of ISO 200 and a shutter of 1/200s you are forced to use very small aperture, which affects image quality. Typically, this problem is counteracted with a ND filter. However, we have mounted the Panasonic 7-14mm lens, which has no filter thread due to its bulby front lens. As there is no alternative for the exceptional focal length range of the Panasonic 7-14mm paired with its superior image quality we need to find solution for the ND filter mount.
Several approaches for mounting ND filters to Panasonic 7-14mm lens have been discussed in http://www.mu-43.com/showthread.php?t=28762 . But none of these seems reliable and light enough for our flying BMPCC.
The solution I want to present is made for 77mm filters. There is no vignetting present even with 7mm focal length. The only thing you need is a 72 – 77mm filter adapter (e.g. like this adapter).
First, I shortened the built-in hood of the lens by ~2mm on the left and right side and ~7-8mm at the top and bottom. With 7mm focal length the front lens has approximately the same height as the hood. The important thing is that the remaining hood has the same height all around. I used a Dremel for cutting the hood and sand paper for smoothing.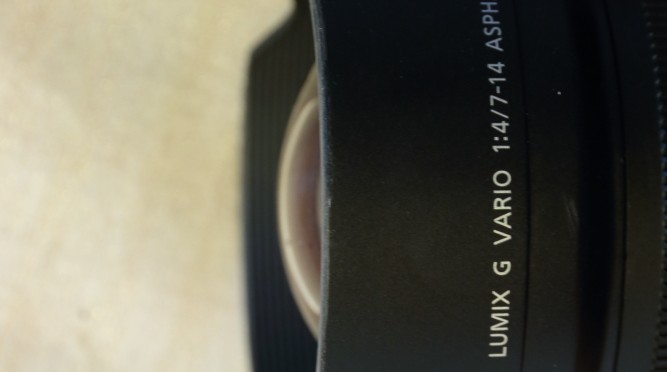 The 72-77mm filter adapter fits exactly over the hood. Even though it holds quite well on the hood, I fixed it with silicone to make sure it doesn't depart during flights: I applied some silicone and moved the adapter over it. Move the adapter down as far as possible so that the filter is as close to the lense as possible, but without touching it. Finally, remove the excessive silicone.
Mount a filter for checking the correct position of the adapter before the silicone hardens.